Krav Maga is simple and effective. It has been adopted by all Israeli armed forces, some American police units, agents of the FBI and French police in the GIGN and RAID.
KRAV MAGA MEANS "CLOSE COMBAT" IN HEBREW AND HAS TWO ELEMENTS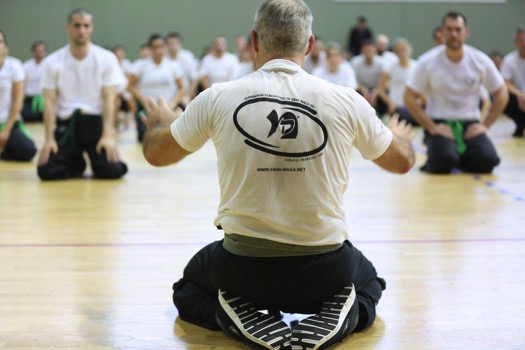 Self-defence is the framework and contains various techniques to enable participants to defend against attack, avoid injuries and overcome an attacker. This part consists of parrying against a wide variety of armed or unarmed attacks in different basic positions: standing, sitting, lying down, etc.
Hand-to-hand combat is a more advanced phase of Krav Maga and teaches how to quickly and effectively neutralise an opponent. It consists of elements relating to the combat itself: tactics, feints, the combination of different attacks, the psychological dimension of the combat and many other exercises to develop the ability to handle dangerous physical confrontations.
WHAT IS KRAV MAGA'S STRENGTH?
It came into being in a historical context, where to know how to defend oneself was important. Imi Lichtenfeld designed his method with realism as its cornerstone and, over the years, tested his findings in many circumstances. This makes Krav Maga a modern and realistic method of self-defence characterised by a coherent and logical way of thinking that enables the use of natural, practical and easy techniques based on relatively simple movements of the human body.
Obviously, the discipline's concern for realism does not permit sporting rules or competitions, which would limit it to the confines of such rules. It is an ideal method of self-defence for confronting serious dangers.
DISTANCE AND TIME
Simple movements are short and therefore not tiring. There are two good reasons for simple movements: they enable participants to stay as physically fresh as possible during a fight. A simple movement is short and, as the distance is shorter it is automatically faster.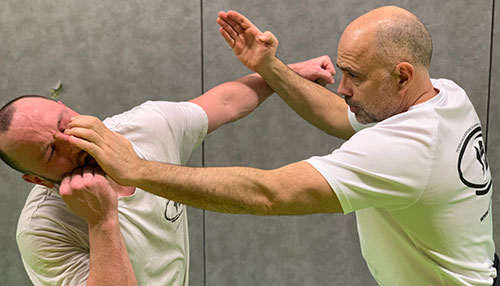 A SPORTS DISCIPLINE
Despite the absence of limitations in Krav Maga, we do of course observe safety rules so that participants can practise safely and reach a high level, while ensuring that no movements and no attacks are unknown to them.
In Krav Maga the search for efficiency takes precedence over aesthetics. In our teaching, we try to train good participants who will use their knowledge in the art of self-defence only where it is absolutely necessary. Classes are taught in special Krav Maga clothing with protective equipment and according to basic safety rules.
At the FEKM, each level is validated after a required period of practice and a special, challenging exam.
THE CONCEPT OF LEGITIMATE DEFENCE
For defence to be legitimate, it must meet the following three criteria:
A necessary response: If no other alternative is possible (escape, for example);
An urgent need: (e.g. the victim does not have time to go to the police);
Proportionate to the attack: a violent response only to defend oneself immediately. There is no legitimate self-defence when the response takes place while the attacker is leaving the scene or the violent counterattack is intended to prevent future or uncertain aggression. As Krav Maga is self-defence, it must meet this legal framework. Instructors must be informed and inform their pupils.
In France, articles 122-5 to 122-6 of the Penal Code are the discipline's reference documents.